As editors of Perspectives we are delighted to collaborate with Grace Whitney (PhD) to further highlight the needs of infants in Refuge. Grace Whitney, Ph.D., MPA, IMH-E (IV) is the Director of Early Childhood Initiatives at SchoolHouse Connection, USA. This column features a response from Grace, to the recently published article in Perspectives by Wendy Bunston: How Refuge provides refuge to Infants: Exploring how 'refuge' is provided to infants entering crisis accommodation with their mothers after fleeing family violence (Perspectives in Infant Mental Health, Vol.26. No. 4, Fall, 2018).
 "Thank you so much for sharing this! The article on Refuge again points out that systems designed to provide refuge are "adult-centric" and rarely, if at all, take the needs of infants and young children into account, from the trauma informed response used to nutrition to health care and on and on. IMH professionals everywhere must put on their to-do list the 'childproofing' of every single system there is in our worlds….in our universe! If an IMH lens can be used to review every single policy, practice, educational effort, resource allocation, and more, we will be leaving behind a better network of support for infants and parents as we move forward. Babies matter. Their meaningful relationships that help them feel safe matter. I will be sharing this piece with others for sure" (Grace Whitney).
Contributing further to the conversation about infants and refuge, Grace offered the following links to resources to share with the Perspectives readership. The first link takes you to the Early Childhood Self-Assessment Tool for Family Shelters – A guide to support the safe and healthy development of young children in shelters, published by the Administration for Children and Families, USA.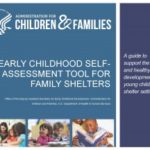 The second link takes you to a recent publication: Childproofing Checklist for Housing and Homeless Service Providers (2018), published by the SchoolHouse Connection (USA). If you follow this link, you can download the Childproofing Checklist for Housing and Homeless Service Providers "TEN S's for SAFETY".
The SchoolHouse Connection is based in the USA. It is a:
… national non-profit organization working to overcome homelessness through education. We provide strategic advocacy and technical assistance in partnership with early childhood programs, schools, institutions of higher education, service providers, families, and youth. We believe education is the only permanent solution to homelessness. Our vision is that children and youth experiencing homelessness have full access to quality learning, birth through higher education, so they will never be homeless as adults, and the next generation will never be homeless. (https://www.schoolhouseconnection.org/about/about-schoolhouse-connection/)
Thank you Grace for the feedback and for sharing these very useful resources.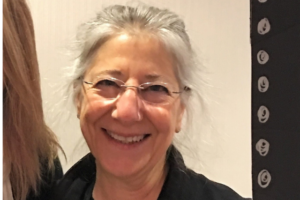 Photo: Grace Whitney
Contact details for Grace Whitney
Grace Whitney, PhD, MPA, IMH-IV
Director, Early Childhood Initiatives
SchoolHouse Connection
grace@schoolhouseconnection.org
Website: SchoolHouseConnection.org
Twitter: @SchoolHouseConn | Facebook: SchoolHouse Connection
Promoting success for children and youth experiencing homelessness, birth through higher education.
Authors
Maree Foley (Editor of Perspectives) Switzerland Maree.foley@xtra.co.nz
Debbie Weatherston (Assistant Editor of Perspectives) USA dweatherston@allianceaimh.org
Grace Whitney (USA) grace@schoolhouseconnection.org