Dear Friends,
The year 2014 is soon ending, and from the perspective of the World Association for Infant Mental Health it was really successful.
The 15th World Congress in Edinburgh brought together 1600 Infant Mental Health specialists. Also during the current year the number of WAIMH members grew to 1030 individuals. Additionally we have affiliates on all continents: 16 in Europe, 28 in Northern America, 2 in Southern America, 2 in Africa and 5 in Asia and Oceania.
The Board has been preparing the Infant's Rights document all through the year. The Board of Directors also got new members, since Maree Foley started as the Chair of the Affiliate Council and Anna Huber as the Affiliate Representative.
Membership
As the year is ending, please renew the WAIMH membership for the year 2015. Go online to the website of the association: www.waimh.org.
There are two separate categories: the student (45 USD) and professional (75 USD) memberships. As a WAIMH member, you have the privilege of ordering the Infant Mental Health Journal at a special rate.
The rates differ according to your country: USA 50 USD, Canada 52.50 USD (including tax) and International orders 62.50 USD.
All journal subscriptions are also including access to the online IMHJ at the Wiley. A new popular form of getting access to the journal is the online only option, which is available for WAIMH and MI-AIMH members worldwide at the fee of 40 USD.
Please, contact the Central Office of the association, if you need guidelines or support for the membership renewal (office@waimh.org).
Social Media
The Social Media initiative is progressing, and Reija Latva started as the Social Media co-ordinator. We now have volunteers all over the world, who are helping us with the social media channels (yet not opened for the public).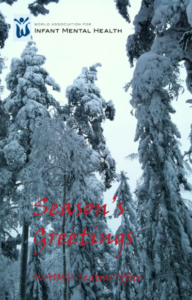 15th World Congress in Prague
The 15th World Congress of WAIMH will be held in beautiful Prague in the Czech Republic. The date is May 29 –June 2, 2016. The Central Office and Programme Committee have started their work in order to produce a memorable and scientifically high quality congress.
Seasonal Greetings
We want to thank all our members and networks for your work on behalf of the infant perspective globally! Your work is especially important in the turmoil of the world events. We hope that the supportive network of Infant Mental Health specialists involved in WAIMH can give you new insights and joy also in the next year 2015!
---
PDF
From the Kauppi Campus -News from WAIMH Central Office. The Association is Growing.
Authors
Kaukonen, Pälvi,
Executive Director,
ed@waimh.org,
Puura, Kaija,
Associate Executive Director,
congress@waimh.org
Sorsa, Minna,
Administrative Assistant,
office@waimh.org,
Tampere, Finland