As this Summer (2020) edition is released, the global COVID-19 pandemic, shows little sign of abating. Time has taken on a different dimension with little certainty about how this pandemic will evolve. At some point, COVID-19 will pass by and we will be in recovery, alongside every family with young children in our communities. However, this pandemic, has highlighted vast health inequities within communities and across countries. UNICEF has recently released a statement highlighting the unique needs of children during this pandemic: https://data.unicef.org/resources/rapid-situation-tracking-covid-19-socioeconomic-impacts-data-viz/
The daily challenge to stay connected with our families while also attending to the challenges to respond to families with young children in our local communities, is immense. Across the globe, there have been huge efforts to keep connected, while the daily narrative includes terms such as isolation and social distancing. Amidst distancing in person and wearing masks, sustaining social connection has become more important than ever.
Within WAIMH, one way we have tried to attend to connection is through the IMHJ and Perspectives project: Infant and Early Childhood Mental Health in the Context of the COVID-19. As a Perspectives team, with Jane Barlow and Holly Brophy-Herb, we have been working to prepare the forthcoming special issue on COVID-19. The plan is to have this issue ready for publication, by the end of this year.
This Summer (2020) edition of WAIMH Perspectives in Infant Mental Health assembles the articles and notices that have been posted via social media since the Spring Summer 2020 Edition.  It has been nearly 18 months since we have been using this publishing format which integrates WAIMH social medial platforms and Perspectives papers and posts. The goal of the publishing format remains the same: to call attention and consideration what WAIMH members and allied infant mental health colleagues, around the world, are thinking, doing, and writing about.
This issue also marks a milestone in the history and development of Perspectives. Debbie J. Weatherston (PhD), who has been a long-standing Editor, Editor-in-Chief, and more recently Associate Editor, is retiring from her service to the publication. During her time with the publication, Debbie has gifted WAIMH and our global infant mental health community with an extraordinary library of topics that remain salient, across time, across cultures, and across the many different contexts from which we meet, and journey alongside, infants and their families. In addition to deep gratitude and thanks, we can collectively embody this gratitude as a global community via our shared commitment, to continue the journey. To continue to meet babies and their families at their tables, to advocate with them and for them across all levels of the political spectrum, and to hold dear each other, as companions in this shared path.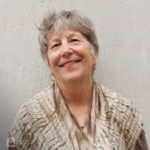 Debbie Weatherston (PhD) Retired Editor-in-Chief of Perspectives 
Debbie continues to share her deep knowledge, expertise, insight, and wisdom via local, national, and global platforms, and across genres. This issue features poems from Debbie that have been published in the Poetry and Practice section of Newborn Behavior International (NBI) network website. https://www.newbornbehaviorinternational.org/poetry/name-of-poem-bxjh5. This site is open access and contains an invitation from NBI leaders, Kevin Nugent, and Lise Johnson, to join the NBI worldwide network. You can read more about this at the following link: www.newbornbehaviorinternational.org
As Debbie retires, we welcome a new Associate Editor: Dr Azhar Abu-Ali. Azhar is a senior clinical psychologist, Dubai Health Authority, Dubai, United Arab Emirates. Azhar brings a wealth of experience to the team. She is the inaugural president of the newly established WAIMH affiliate: Infant Mental Health Committee (IMC) of the Emirates Society for Child and Adolescent Mental Health (ESCAMH). We are delighted to welcome her to the Perspectives Editorial team.
Regarding WAIMH news, in this issue: The President of WAIMH, Campbell Paul, provides an update on Executive Council Board news; we feature the WAIMH Award 2020 winners; the June 2020 Perspectives Biennial Report is shared; and you can read the most recent WAIMH Congress update.
We feature a paper by Catherine Maguire (Ireland), on behalf of the Irish Association for Infant Mental Health. Catherine contributes a paper to our tribute series to Hi Fitzgerald: Celebrating Professor Hiram Fitzgerald: Forty Years with Infant Mental Health: A tribute from Ireland.
This issue also features a paper by Dr Patricia O'Rourke (Australia). Dr Patricia O'Rourke's paper, Working therapeutically with infants in the child protection system: Reflections, provides readers with a glimpse into the inner world of the infant parent specialist; an inner world where the therapist purposefully creates a transitional space, for themselves with the infant and parent, and the many and often complex infant family relationships.
This issue contains a series of brief papers on a project led by Dalia Shlomy (Israel), "A child on the Rainbow Real life stories of parents to children with disabilities. A play accompanied with music, songs, and humour".  Dalia Shlomy has generously shared a link to our readers to watch the play. In the play, the actors, are all parents of children who at some stage of their development received a long-term health diagnosis. Readers also get to hear directly from the parents. It features voices of the parents who participated in the group work and then who were actors in the play: Child on the Rainbow. This paper includes a brief exploration of the Reaction to Diagnosis Interview (RDI) (Marvin & Pianta, 1996) and shares the voices of the parent participants as they reflect specifically on the very early days of learning about the challenges their baby faced as they adapted to parenting a baby with a diagnosis.
A new infant-parent psychotherapy book for sleep problems has been released by Dilys Daws with Sarah Sutton (2020). Parent-Infant Psychotherapy for Sleep Problems. Through the night. https://www.routledge.com/Parent-Infant-Psychotherapy-for-Sleep-Problems-Through-the-Night/Daws-Sutton/p/book/9780367187828 This book is currently in the process of being reviewed for Perspectives readers and we look forward to sharing this review with you, soon.
This issue also contains a link to an online presentation from Dr Niels Peter Rygaard (Denmark): How can online learning improve child mental health – on a global scale? Who needs us the most? Children who lost parental care! In addition, we draw attention to platform two of the IMHJ -Perspectives initiative: Infant and Early Childhood Mental Health in the Context of the COVID-19 Pandemic.
We are calling for proposals for a special section (generally 3-5 papers and a brief introduction) in the Infant Mental Health Journal on completed COVID-19 infant and early childhood mental health research. The goal of the special section is to contribute to an early literature base that can inform and support additional research. Innovative, well-implemented pilot studies may be included. Proposals should include a brief description (~ 250 words) description of the COVID-19 related them of the papers, working titles and an abbreviated abstract (~250 words) for each included paper. Proposals are due by December 1, 2020. Invitations will be issued by January 15, 2021. Manuscripts are due by May 1, 2021 with expected publication in Fall 2021, following a streamlined peer review. Submit proposals to Holly Brophy-Herb, hbrophy@msu.edu
On behalf of our Perspectives in Infant Mental Health editorial team I thank each person for their interesting and thoughtful contributions. We welcome submissions from the field that challenge the way we think about infants, families, culture, and community, and offer fresh perspectives on policy, research, and practice. As always, we invite comments in response to what is published in WAIMH Perspectives in Infant Mental Health.
---
PDF
Perspectives in Infant Mental Health Vol. 28 No. 2 | Summer 2020
Authors
Maree Foley (PhD) Perspectives Editor-in-Chief
email: maree.foley@xtra.co.nz